Independent and connected – Clear communication in CI, Gesine Daniels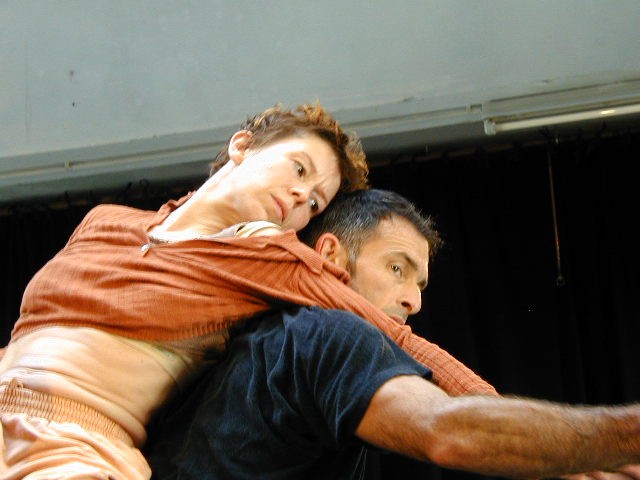 About masterclass:
All levels. What are the physical skills, I need for clear communication in CI?
How do I build trust, to go for the unknown?
How can I bring myself as a unique person to every CI dance?
How can I stay true to my own impulses and stay in contact with my dance partner?
In this workshop we will explore how to use our physicality, our imagination, our dance partner and the space as sources of inspiration and as tools that help us dance skilfully and with ease and joy.
Particular exercises will enable us to utilize our own weight and the weight of our partner as we move together in and out of contact and to take advantage of the physical forces gravity, levity, inertia and momentum.
Experimenting with different qualities of touch (leaning, pushing, sliding, rolling...; very light or down to the bones...), giving and receiving touch with diverse intentions (manipulating, following, listening, challenging...) and with various body parts we will become more familiar with communicating through touch.
We will practise to initiate movement with clear intention as well as to follow the offers and impulses of our partners and to integrate both possibilities in our dances.
Alignment- and release exercises and the practice of doing nothing, but surrendering to the dance that happens inside and outside of us, will enable us to sense and observe the possibilities of any moment and to be ready for transformations and shifts in the dance: in and out of contact, from stillness to action, from floor to air, from fast to slow, from gentle to vigorous...
Building up from there we will also learn some lifts, jumps, catches and flight patterns and experiment with them in our dancing.
This training will give us the basis to plan less, trust more into our own open senses, our reflexes and our communication skills and from there, to find the courage and the joy of being surprised by the flow of our improvised contact-duets and -trios.
The workshop is open for everybody who is curious about CI, for beginners as well as for advanced contacters – we will learn from each other!
About Gesine Daniels:
Gesine Daniels is a choreographer, a dance teacher and a performer living in Germany. She has been dancing since her childhood and practicing many forms of dance and movement from Ballet and Gymnastics to Contactimprovisation.
Since 18 years, CI together with improvisation is her passion; which influences her teaching and artistic work as well as in her daily life. Her style of dancing and teaching Contact improvisation is energetic, playful and sensitive.
Exploring the physics of the human body in movement fascinates her and the question of "how do we communicate in and through dance?" is a big issue for her.
Gesine has been dancing and creating in a wide range of events and places from opera to street performance, solo and group works; as a teacher she has been working in social ghettos and theatre schools, she taught children in primary schools as well as educated dancers;
Since 1986, she makes up and dances her own choreographies in addition to her work as a free-lance artist.
In 2000, she founded the SomeBodyElse Dance Company, which uses improvisation and Contactimprovisation in their site-specific dance pieces.
In the moment, she works on developing a movement-language that combines abstract elements with story-telling, improvisation with choreographed movement, which is experimental, but still legible and entertaining and can be used in public spaces as well as on theatre stages.
Gesine lives, dances, creates and teaches mainly in the Rhineland and in Berlin. She loves the big cities, sites that are created, shaped and enlivened by human beings, by people's stories, movement, theatre… With her artistic work she aims at showing the poetry and the depth of the ordinary, banal, everyday life.