From Practical to Poetic and back again, Steve Batts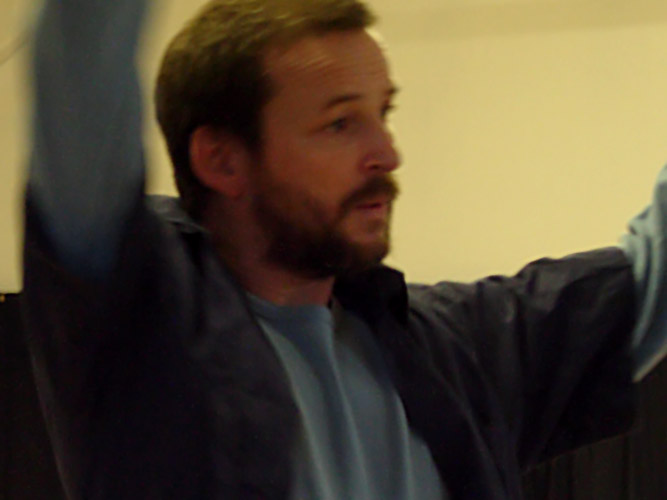 About masterclass:
All levels. In this intensive we will approach Contact Improvisation from a practical point of view. We will give our main attention to the examination of, and practice of the physical co-ordinations involved in sharing dances. We won't, however, forget that the reason for this practice is ultimately poetic rather than athletic. We will be paying attention to the details.

We will roll, lean, travel, share weight, lift each other, climb and offer physical support in a range of tones and rhythms; from light and gentle to enthusiastic and generous. We will practice limited forms and structures, intended to focus and develop the ability to maintain fundamental practicalities of sharing a dance. From there we will open towards freedom of action and expression.

We will commit ourselves to an ongoing process of pouring out of ourselves our dancing, seeing it fill up our partners and allowing our partners dance to fill us in return.

About Steve Batts:
I have been dancing and teaching Contact Improvisation since the early 1980s. It is undoubtedly one of my biggest and most consistent joys in life. When I started I came from a background in university study of philosophy and politics, and a lifelong engagement in theatre, music and sport. Contact Improvisation crystallised and focussed what I most enjoyed about participating in those things. It continues to be my meditative practice, my folk dance, and my poetic and intellectual challenge. While it has a huge influence on my artistic work I try to teach from the point of view of a participant rather than a director.

I really treasure the intensive festival experience, whether as teacher or participant. I find it find the most challenging and stimulating input to my work as a dancer, performer and teacher and a wonderful chance to meet and communicate with other people in a very special way.

I am Co-Artistic Director of Echo Echo Dance Theatre Company, which is based in Derry in Northern Ireland. I work with a very wide range of people from pre-school kids to professional dancers, from people with learning disabilities to senior citizens. As well as Contact Improvisation I teach composition, improvisation, movement technique and the Alexander Technique internationally and at home in Ireland. I also perform regularly as an improviser as well as touring full productions widely to theatres and festivals.