ReleasingExploringFinding, Gál Eszter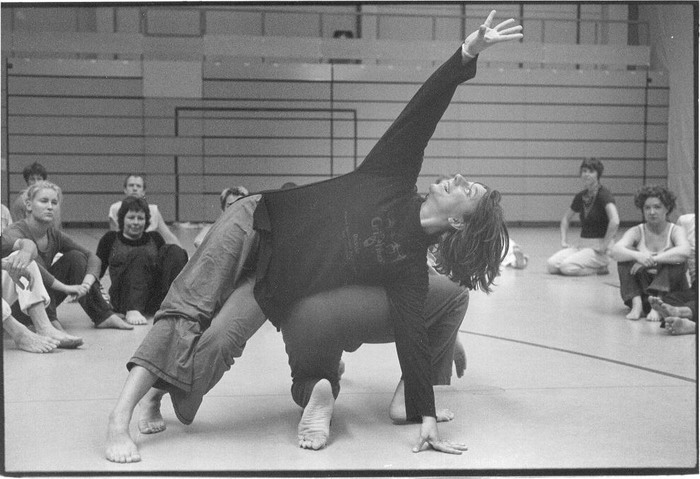 About masterclass:
The workshop will offer studying the moving self through releasing work, (letting go, economy, image work, working with the breath), studying the stillness (listening and giving in to gravity) and observing the reflexes at work by following the natural laws of movements. We are going begin on the floor by listening to our inner sensations, practicing allowing and creating space in order to deepen into our inner landscape, explore our own dance then find our partner and meet. We will also practice simple moves that support safety and trust when taking physical risks. We are going to enter the dance in different ways and have long duets followed by guided feedback. The aim is to find physical answers to our "questions". Let go, be ready and dance and by practicing the dance we will learn about composing with a sense of knowing.
About Gál Eszter:
She is a dancer, teacher, choreographer and organizer. She graduated at the Hungarian University of Physical Education in Budapest in 1989 as a physical education teacher and a physiotherapist. She studied at EDDC (European Dance Development Center) – Arnhem, The Netherlands for 3 years. During her studies she had worked with Yoshiko Chuma (New York), Mark Tompkins (France) and Stephanie Skura (Seattle). She is a certified Skinner Releasing Teacher (SRT).

Since 1993 she has been presenting her works throughout Europe, Russia and in the US as well as performing solo, duet and group improvisations. She was a member of L1 Independent Dancers' Partnership between 2001 and 2007. She founded her group called Company ST in 2003. She has been working with Tánceánia (a mixed ability company) since 2003 and was the founding member of ArtMan Movement Therapy and Art Workshop in 2005.

At present she is a teacher at the Contemporary Dance Academy and the Hungarian Dance Academy where she teaches SRT, Contact Improvisation, Improvisation and movement technique. She has been teaching master classes on a regular basis in Slovakia, Germany, Hungary, Poland and Russia, and has been invited to several International Festivals in Europe. She organized the 15th ECITE (European Contact Improvisation Teacher's Exchange) in Budapest, 2000 July, and she is the artistic director of the Kontakt Budapest International Improvisation Festival since 2002.