EMPTYING, LANDING, SOARING, Andrew Harwood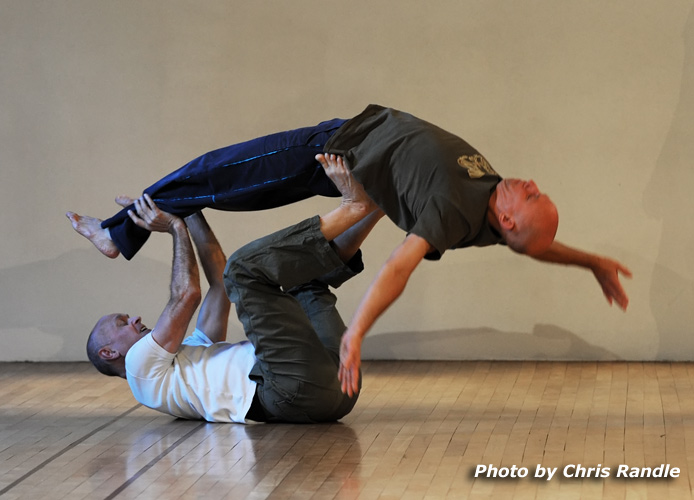 About masterclass:
The workshop will focus on:
1) gravity/levity,
2) relaxation/activity,
3) center/periphery,
4) the spine and the senses.

We begin by arriving in the space physically, emotionally and mentally, alone, in pairs and collectively. To be ready for the present moment, we empty ouselves so that we can learn and receive, explore and experience, give and take. We build a connection with our body on a deeper level, we let go and relax fully into a spacious sense of time which allows for various activities to come into play, we explore gravity and the inner energy which comes from our center and moves through our whole body right to the periphery.

We will spend special attention to the relationship of the head/tail connection and strengthen the relationship of the center to the extremities of the body so that our take-offs and landings and our travelling through space are all brave, smooth and safe. Breath, relaxation and letting go is directly connected to being grounded and centered while moving dynamically.

Each day we will practice a specific Contact skill and work with enlivening the senses so that we can be really open to finding immediate creative solutions. Tuning, toning and enlivening our entire being, creates a state of readiness which leads us to fuller, vibrant, connected dancing. We can then enjoy the richness of our dancing alone, in pairs and as a group.

About Andrew Harwood:
Andrew de Lotbinière Harwood is the artistic director of AH HA Productions a project oriented company focusing on improvisation as a performing art. Andrew is recognized as an exceptional international teacher, performer and creator in the field of contact improvisation and in instantaneous choreography since 1975.

Harwood studied, taught and performed with Steve Paxton, Nancy Stark Smith and Nita Little, the founding members Contact Improvisation. His background also includes gymnastics, yoga, modern dance, release technique, somatic studies, compositional improvisation and Aikido.

His work has been presented in numerous international festivals since 1980 (Impuls Tanz, La Biennale, Festival Montpellier, F.I.N.D., Festival des Antipodes, IF/New York, Bates Dance Festival, etc.) Andrew has also taught and performed at many of the international Contact Festivals in Europe over the past 4 years. He has danced with the companies of Fulcrum, Jo Lechay, Marie Chouinard, the Echo Case, and Jean-Pierre Perreault, and has collaborated in performance with many renowned dance artists including Lisa Nelson, Kirstie Simson, Peter Bingham, Chris Aiken, Ray Chung and Benoit Lachambre among many others. He was awarded the Canada Council's Jacquelin- Lemieux dance award in 2000.